Our site may contain affiliate links. Read Advertiser Disclosure policy here.






Starwood has been on a push in recent years to standardize elite status benefits across its hotels.  This certainly helps set expectations which is a good thing but I've found a lot of hotels have eliminated the uniqueness of their previous offerings as a result.

It was quite refreshing to check into The St. Regis Osaka this week and receive a series benefits from both a status and standard guest perspective that are a little different (way better!) than the norm.

The Platinum benefits explained

At check-in we were explained the platinum benefits and handed a card describing each.
Complimentary internet, local calls, and late 400PM checkout are standard platinum benefits.  Obviously I was a little more excited about the two line items that read 3000 JPY per night Mini-bar credit and free breakfast at their restaurant!  Generally as a Platinum member you need to select breakfast as your amenity but The St. Regis Osaka includes it and offers you an additional platinum amenity selection.
3000 JPY minibar credit
This was my favorite and most fun platinum amenity.  The minibar is a like a forbidden fruit to me so being able to rummage through it each evening was a lot of fun.  Yes, everything is really overpriced but you don't care as much when it's included!
Platinum breakfast
I expect to gain 20 pounds when I visit Asia and that is solely from the breakfast buffets. Therefore it is probably no surprise that this Asian five star hotel had a massive and high quality breakfast buffet including many made-to-order dishes.
Platinum amenity selection
Because breakfast is a standard platinum benefit at this hotel, we had the option to select a platinum amenity that was the bonus points or drinks at The St. Regis Bar.  Based on the exceptional prices at the bar the drinks were the choice we went with.
Standard Guest Benefits
Complimentary in-room delivery of drinks
As a standard butler offering, every day you may have your butler deliver coffee, tea, water and other non-alcoholic drinks.  We went with lattes each morning which were phenomenal.  Sparkling water is not technically part of the offering though they were more than willing to oblige and bring that as well.
Welcome drink
Upon check-in, we were asked to select our welcome drink delivery which would be delivered along with your bags.  We selected a seasonal Japanese drink which was delivered promptly to our room and was fantastic.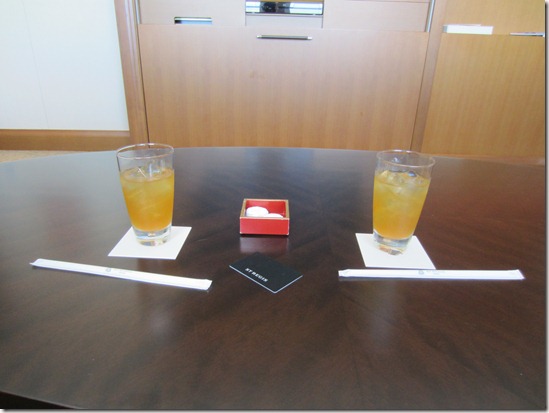 Turn down amenity
Each evening at turn down, our room was supplied with an evening amenity ranging from fine chocolates to nuts to fruit plates.
Champagne toast
At 630PM in the outdoor Zen Beer Garden, the hotel is scheduled to perform the standard St. Regis champagne toast ritual.  Interestingly enough 630PM came and went without any action.  After we enquired several times someone finally came out and just sabered off a champagne bottle privately in front of our table.  That works!
Unpacking, pressing and shoe shine services
The hotel will unpack for you, press a few clothing items and shine your shoes as is pretty standard at other St. Regis properties.  I had my shoes shined but did not opt for the other services.
The bottom line
The barrage of benefits offered from star to finish by The St. Regis Osaka was quite refreshing and made this stay a truly memorable one.  We had a blast going through the mini-bar each night and sampling the forbidden fruit.  While part of me likes how Starwood has been standardizing benefits across hotels, the other part of me loves how this property did things a little different.
Editorial Note: Opinions, analyses, reviews or suggestions expressed on this site are those of the author's alone, and have not been reviewed, approved or otherwise endorsed.