Our site may contain affiliate links. Read Advertiser Disclosure policy here.






One of the biggest benefits for Delta elite members is the complimentary domestic upgrade. On elite heavy routes Silvers and Golds have little chance for an upgrade. Even Platinum members can find their name way up in the double digits on the upgrade list.

So make sure you remember to check a few things before you fly that will ensure you'll have a chance for the upgrade.

Reminder To Check Upgrade List

First check to see that your reservation's automatic upgrade has been requested. Then check to make sure your name is on the upgrade list before you fly.

You can use the Fly Delta mobile application or go to the website. The technology is great because having that information at your fingertips is powerful. But just check to make sure your name is actually on the list, and here is why.

Last night on my short 12 hour layover at home, I checked to see what position I was on the upgrade list for this morning's turn around leg. There were 14 available seats for upgrade so I felt there was a good chance.

After I checked my reservation, it showed the upgrade was requested, but something was missing. My name wasn't showing on the 46 person long upgrade list.

So I called the Delta Elite member line and they investigated the missing name. The agent came back and confirmed my upgrade was requested automatically but that the system never automatically added my name on the list. I'll say that this is not a common occurance and on 99% of my flights the upgrade is requested properly. But the agent did say this isn't the first time she saw this happen and that Delta should probably get IT to work on this. I said I'd be more than happy to fill out the IT helpdesk ticket and we laughed.

She was able to manually add my name to the upgrade list. Apparently she added a few others or the system did around the same time. Here is a before and after screen print of the upgrade list.
Heading to the airport this morning was a breeze. The TSA Pre line took all of 5 minutes and then I was in the club lounge enjoying a diet coke with a view.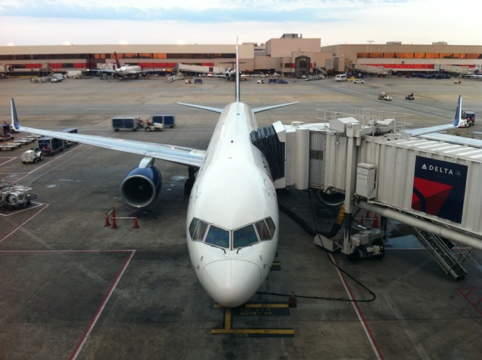 But alas, the upgrade didn't clear from position number 28 on the upgrade list and I find myself out of luck not because I missed the upgrade, but because I landed in the row behind economy comfort due to an aircraft change.
I take comfort knowing the window seat is always better than the middle. Atleast I had a shot at the upgrade, and if you follow a few simple steps you can too.
BEST TRAVEL DEAL EVER GIVE AWAY
Make sure you come back by Points, Miles & Martinis around 8 PM for the announcement of the BEST TRAVEL DEAL EVER give away and the first of two ways to win thousands of airline miles.
Sign up to have blog posts sent directly via email, join us on Twitter and Facebook or check back with us at Points, Miles & Martinis
Editorial Note: Opinions, analyses, reviews or suggestions expressed on this site are those of the author's alone, and have not been reviewed, approved or otherwise endorsed.